Refill Pack
Regular price
Sale price
$34
Unit price
per
Sale
Sold out
A More Sustainable Alternative
Our refillable candles are the perfect solution for those who want to enjoy the lovely ambiance of candles, without the negative environmental waste of single-use candles.
Designed to Last a Lifetime
Our patented Refillable Candle Jar features a flexible bottom that makes it easy to pop out leftover wax for effortless cleaning and refilling. 
Clean Ingredients Only
Hand-poured 100% natural soy wax candles with nontoxic fragrances and essential oils. No phthalates, parabens, or other harmful chemicals.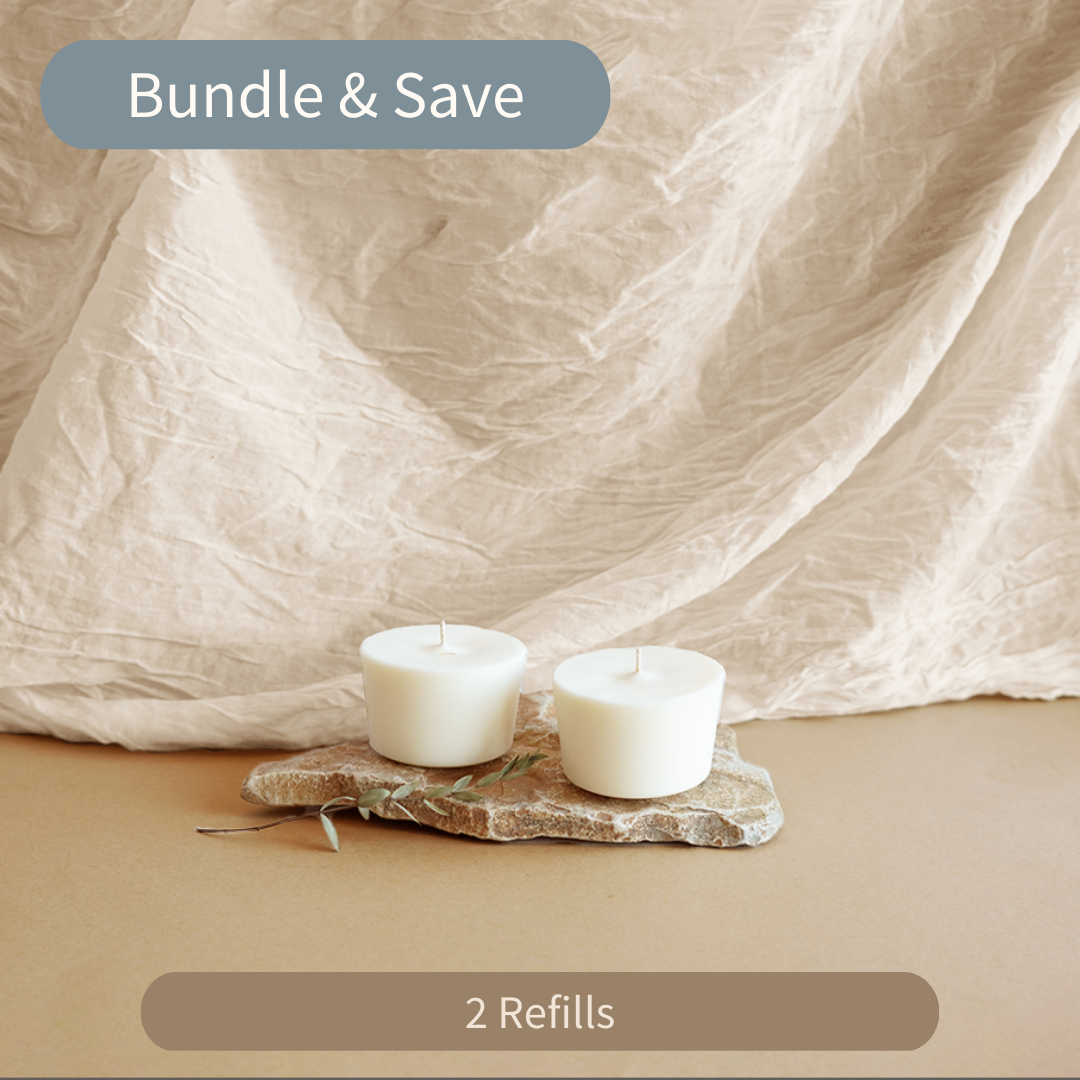 Collapsible content
Overview

The first of its kind, our patented Refillable Candle Jar makes it easy for you to push up on the flexible base to *pop* out the leftover wax! Instead of throwing away your used jars, or spending hours trying to upcycle them, just slide one of our custom Candle Refills right in -- and light it like normal!
Candle Ingredients

🕯️ 100% natural soy wax
🌱 Organic cotton wick
❣️ Non-toxic & phthalate-free
🍃 Vegan
🐶 Pet friendly
🐰 Cruelty-free

7.1 oz candle
Burn time up to 35 hours
Sustainability

📦 Carbon-neutral shipping
📦 Plastic-free packaging

In partnership with 1% for the Planet, we donate a percentage of all sales to environmental nonprofits. Learn more.
STEP 1: Light the candle like normal.
STEP 2: When ready, pop out leftover wax.
STEP 3: Insert a new refill, and repeat!
Love it! But definitely smallish refill
I'm actually pretty thrilled with this - the aesthetic, the scents (woodsy ones are my favorite), and the packaging. So good. The refills are small though and I'm timing the burn time and I won't get 30 hrs. I would strongly recommend that they just beef up the depth of the refill by even a half inch - it would have a huge impact on the sense of value and I'd be happy to commit to buying refills long-term from them. But even with a nice discount for bulk and for a subscription it's a pretty small refill. But seriously love the concept and the art and the whole thing. I want to buy as gifts for everyone but I think they'd be a little shocked by how much smallish refills are.
Well worth it for candle lovers!
I ordered this kit to give these candles a go and I'm very happy with my experience so far! It truly works as advertised. I've always loved candles but was conflicted using them due to the fumes, all the jars I would have to throw away, etc.. I tried humidifiers and scented oils which worked fine, but it wasn't the same as a good ole candle. I'm so glad I found these!
The scents are great, but not overpowering. I just switched to my 2nd one and changing them out was a piece of cake. I will definitely be ordering more refills. If you want a more sustainable way to consume candles, I highly recommend giving this a try!
So many compliments!
I love being able to create our own box of refills with scents both my husband and I can enjoy! The candle looks good on any table and I regularly receive compliments about how great our home smells when it is lit!
LOVE IT
Amazing scents and super easy to pop out the old wax and pop a new one in!
REFRESHING
Beautiful candle, love the sustainability and refreshing scents!